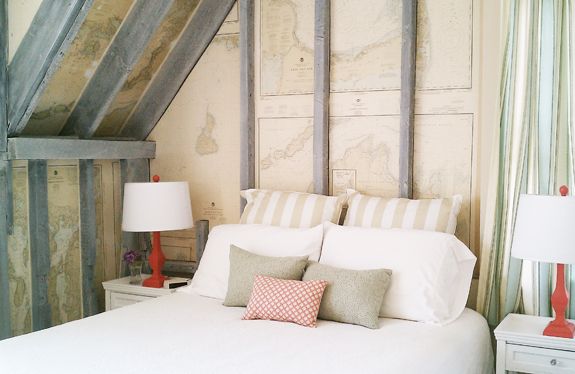 Summer is just around the corner and I'm looking forward to spending time with our girls while school is out. The highlight of our summer is to visit our old family home in Massachusetts that has been in the family for 5 generations. One of the rooms is called the 'Map Room', which is funny because its decorated with nautical charts (not maps). The original structure was a carriage house built in the late 1800's, my grandparents inherited it and, with a lot of hard work, turned it into their home. (Jenny, from
Little Green Notebook
featured the room a few years ago.)
Everyone in the family pitches in to make this family home a treasure and a place where we all want to be. In this room, my uncle pickled the beams and hung nautical charts of coastal Massachusetts on the wall. I love the use of nautical charts and this room has inspired me to use them in my own home. My mom, sisters and I have all worked together to put up new curtains, bedding and paint (a few years ago). My sister painted the lamp stands coral and I love the pop of color in such a serene space.
You can get nautical charts for a good price through
NOAA
, who make the charts. I'm sure I'll be sharing some other rooms in the house this summer. Have you ever used maps or nautical charts to decorate a room? I would love to hear your ideas.