bedroom makeover
for the ORC was expensive and I just couldn't go there with my budget. Bedding can be expensive, but there are simple ways to add your own flare to inexpensive bedding or a sheet to create a chic look at a low cost.
Ikea duvet
cover, I was able to create a timeless look. Here was my inspiration: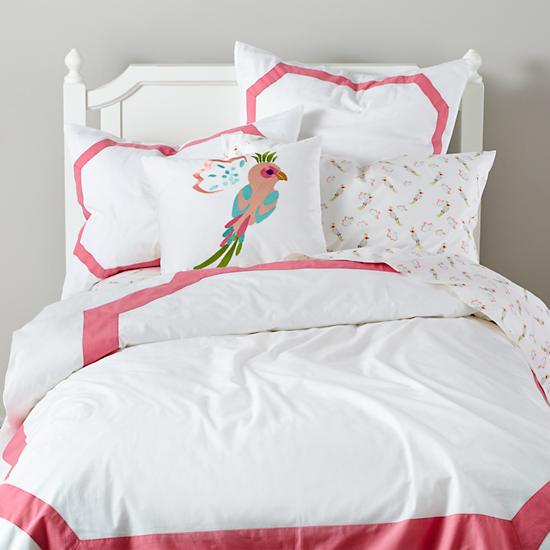 Land of Nod
($198)
Crane & Canopy
($179)
Once it was laid out, I used some fabric glue to help it stay in place and then I did a quick sew around to attach the ribbon to the bedding. I did the same shape on the pillowcases.
My cost $37
Why haven't I done this to more of our bedding? It was a simple project that added a lot of class. Have you ever done a ribbon trim before? I also realized that I didn't give out all my sources for her room so here it is:
Sources for room:
Ikea bedding
pillow (
fabric
)
fabric for
headboard
curtains
Ikea
paint: SW Naval, BM White Dove, (hutch) SW Charisma
bulletin board
fabric
Vintage (or thrifted): desk and chair, hutch, chair, bench seat, lamp (spray painted), side table
art:
Sisters watercolor
, a lot of homemade art
Linking this post to:
Home Stories A to Z
DIY by Design
Best of the Nest